Ukrainian president says embattled town of Maryinka free of separatists
Comments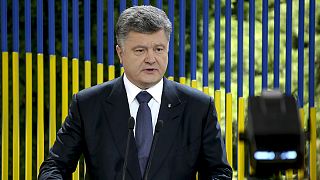 Just days after an upsurge in violence in eastern Ukraine, the embattled town of Maryinka near Donetsk is under the complete control of the Ukrainian army, according to the country's president, Petro Poroshenko.
Speaking at a press conference held in Kyiv to mark his first year in office, he repeated a warning of a "full-scale invasion" by Russia across the entire length of the border between the two countries.
Poroshenko said: "Maryinka is completely clear of insurgents as a result of a clean-up operation. Twelve people were captured, including one citizen from the Russian Federation." He added that "they put up an armed resistance to the Ukrainian army."
The Ukrainian president also expressed confidence that Western leaders taking part in a G7 summit in Germany on Sunday will help Ukraine with an extension of European sanctions against Moscow.
Meanwhile, Russia's defence ministry has denied Poroshenko's claims that Russian troops were fighting in Ukraine. However there have been reports of an increased military presence along the border in recent weeks.