Stricken Chinese cruise ship righted in Yangtze as dozens of bodies brought ashore
Comments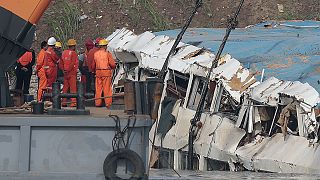 Chinese rescue teams have successfully righted a battered cruise ship which capsized Monday on the Yangtze river.
The Eastern Star overturned in a freak tornado during the night its claimed.
It had 456 people on board but only 14 have been rescued alive so far, including the captain.
The operation to right the vessel was hampered due to the large numbers of bodies still in the water.
Only around 100 have been brought ashore so far.
Zhu Ruming, vice director of Yangtze administration of Navigational affairs, said:
"During the engineering work of righting of the cruise ship, our divers were often finding bodies of casualties in deep waters. When we conducted work above water, we also found passengers' bodies floating. We had to stop to make arrangements to send them to relevant departments."
On Thursday night hundreds of people including the distraught families of victims held a candle-lit vigil in central Hubei province where the accident took place.
Some family members have been openly critical of the authorities for how they have been treated and a perceived lack of information.
As a measure of the sensitivity of the disaster the Chinese government has called on local authorities to help families and for measures to "earnestly safeguard social stability".
Relatives have questioned why the ship was not docked in the bad weather and why most of those rescued are reportedly crew members.
How did they find time to put on their own life jackets and make it to safety but not raise the alarm?
Beijing has pledged there will be "no cover-up" in the investigation.
Most of the four deck vessel remains submerged for now.
More than 200 divers have been making their way through the ship searching for pockets where there could be survivors but none have been found so far.