John Lennon's lost guitar up for sale
Comments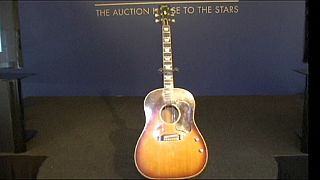 A long-lost guitar belonging to John Lennon is to be put up for auction in America and is expected to fetch up to 800,000 dollars.
The J-160E Gibson Acoustic guitar went missing during a Beatles Christmas show in 1963 and only turned up 50 years later in a US second-hand goods shop.
It was verified as authentic by an expert who matched the serial number and other features to photos and videos of Lennon playing the instrument.