Watch: Brave Beatles fan plays guitar during brain surgery
Comments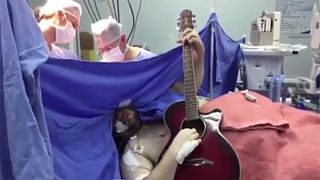 This is the remarkable moment a Beatles fan played his guitar during brain surgery.
Anthony Kulkamp Dias entertained medical staff during a pioneering operation at a hospital in ​Tubarão, south of São Paulo.
The 33-year-old, who was kept conscious during the operation, played Yesterday by the Fab Four and other Brazilian folk songs.
"The doctors asked me to repeat one of the country songs so I even had an encore," Mr Dias told Brazilian news website G1.
The bank worker was undergoing surgery for a life-threatening brain tumour.
Mr Dias was encouraged to play so doctors could monitor his speech and motor coordination during the operation.
Doctors managed to remove 90 percent of the brain tumour and Mr Dias was set to be discharged shortly after the operation.
It was the 19th time the operation had been carried out – but the first where a patient had played an instrument.
It's unclear whether Mr Dias avoided tempting fate by strumming the tune to other Beatles songs, such as Don't Let Me Down, You Can't Do That or Getting Better.