Sports United: Jumping in Aachen, Taekwondo twins and Teddy's favourite ippon
Comments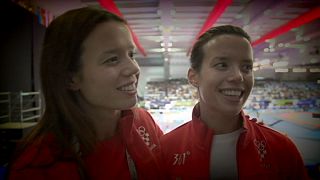 The best show-jumpers in the world gathered in Germany to compete at the prestigious Rolex Grand Prix in Aachen.
Along with Spruce Meadows and Geneva, Aachen makes up the Grand Slam of the equestrian circuit and over the weekend it was the venue for a historic victory.
Britain's Scott Brash became the first rider in history to win two of the Rolex Grand Slam competitions in succession.
After his triumph in Geneva in December Brash was one of seven riders to make it through to the final jump-off in Aachen.
Last to go the 29-year-old riding Hello Sanctos jumped clear and set a winning time of 48.04 seconds.
If he wins September's Spruce Meadows major he will be the first ever winner of the Grand Slam and bag a one million euro bonus for the achievement.
Daniel Deusser riding Cornet d'Armour threw down the gantlet earlier in the jump off.
The German piled the pressure on when he also jumped clear and clocked 48.37 seconds.
But it wasn't fast enough as he had to settle for second place.
Rounding off the Aachen podium in third was Simon Delestre with Ryan des Hayettes while Ludger Beerbaum was fourth.
The third and final leg of the Rolex Grand Slam in Calgary begins on September 9.
Centre of attention
The 10th edition of the annual Archery World Cup stopped off in Antalya, Turkey for the second leg of this year's four-part preliminary series.
The compound event turned out to be one for first time winners.
Andrea Marcos fired herself and Spain to a first ever victory on the Archery World Cup in her first appearance on the elite circuit.
26-year-old Marcos, ranked 33 in the world, beat Russian Mariia Vinogradova in a tight affair.
Nothing could seperate the pair throughout and after both hit a ten in the shoot-off Marcos was eventually declared the winner after her arrow landed marginally closer to the centre.
GOLD (Oro) for Andrea Marcos of Spain! #WCAntalya#archerypic.twitter.com/Ym76psI2Me

— World Archery (@worldarchery) 30 Mai 2015
There was also a first-time winner in the men's compound.
Kim Jongho of South Korea celebrated his first world cup title when he beat Mr Perfect and world number one Mike Schloesser of the Netherlands.
Schloesser was the pre-match favourite but Kim was in stunning form and eventually squeezed out the victory winning through 145-144.
Victory lift for Kim Jongho of Korea! Beat Mister Perfect 145-144 in the #WCAntalya gold FINAL. #archerypic.twitter.com/Cwoq4wxay2

— World Archery (@worldarchery) 30 Mai 2015
Gunning for gold
The Olympic shooting range in Munich played host to the sixth stop of the ISSF World Cup.
It saw a record-breaking number of athletes compete across 10 Olympic rifle and pistol events and also saw a German contingent thrill the home crowd with a golden performance.
20-year-old Andre Link claimed his first world cup gold in the men's 50m Rifle 3 Positions.
He shot into the lead after the opening Kneeling position – controlled the field throughout the prone and then secured gold and a Rio Olympic spot with a strong Standing position performance.
The German fans were celebrating another gold when three-time Olympian and 2010 world champion Barbara Engleder won the women's 50m Rifle 3 Position.
Germany enjoyed three gold medals on home turf.
Christian Reitz won a thrilling men's 25m Rapid Fire Pistol final.
With a score of 32 hits, he out shot USA's 40-year old two-time Olympian Keith Sanderson who picked up the silver with 26 hits.
The venue in Munich will also be the location of this year's ISSF World Cup Final in Rifle and Pistol events, which will take place from September 1st to September 7th.
Double trouble under the spotlight
On spotlight this week we take a look at a rare family affair from the world of Taekwondo.
Ana and Lucija Zaninović are identical twins from Croatia and as well as their looks it's also difficult to seperate the pair in terms of success on the tatami.
Ana is a former World and European champion in the -53 bantamweight class while Lucija is a three-time European champion and 2012 Olympic bronze medallist in the Flyweight -49 kg division.
Taekwondo wasn't love at first sight for on of the sisters.
Ana: ''We began training for the first time at the same time but she(Lucija) didn't like Taekwondo but she came back one year later.''
Competing on the same circuit throughout the year means the twins get the opportunity to cheer each other on but only when one or the other is already out of the competition – not before.
Lucija: ''When Ana fights its awesome but we can't watch each other, the coach doesn't like that because it's too emotional.''
Toni Tomas is the twins' long-term head coach and knows the characters of his charges all too well.
Tomas said: ''Ana is always the leader, Lucija always follows. Ana works hard, hard, hard and Lucija goes wherever Ana goes.''
Despite high kicking at the highest level of their sport for nearly a decade the twins' feet remain firmly on the ground.
Lucija: ''I train, I do my best, of course I want to win a medal but if I don't win it's ok, it's all a game. I love taekwondo, I enjoy taekwondo.''
Ana added: ''We are healthy, we have each other and that is the most important.
Only last month (May) secured a bronze medal at the World Championships in Chelyabinsk. It was her fourth medal at the worlds following a gold in 2011, and two silvers in 2007 and 2013.
The next European Taekwondo Championships take place in 2016 at Montreux in Switzerland.
It's a knockout with Teddy
It's judo's equivalent to boxing's knockout – yes its an ippon. Once you're down you are out.
To help explain some of the techniques involved in delivering the ultimate blow we've gone right to the top and to seven time world, four time European and 2012 Olympic champion – Tedder Riner.
Riner: ''Judo in a few words is Uke/tori, which is two opponents that confront each other. If you are intelligent enough it's knowing how to use the force of the other to throw them down, to put them on their back. When you have put you opponent on their back that is ippon and you have won the combat.
''The four ways to score an ippon is strangulation, immobilization, the arm block and the one you all know; throwing your opponent on their back for ippon.''
The uchi-mata is one of the most common scoring techniques in Judo but also can be one of the most impressive.
Riner: ''An 'uchi-mata' is simple – you need to establish a strong grip called a 'kumi-kata', then you take you adversary wherever you want when you want in order to start the 'uchi-mata'.
''You need use your hip well, then pass underneath your opponent's centre of gravity, kick your leg out with force – still holding the strong grip – and then normally it all follows and they fall.'' (See clip above for examples of each technique)
Emotion
We sign off this week with images from the IAU 5th Trail World Championships in Annecy France.
Congratulations to French pair Sylvain Court and Nathalie Mauclair on their victories. (see clip above)