South Korea president demands a halt to deadly MERS virus
Comments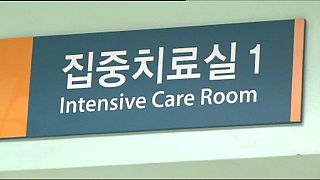 South Korean President Park Geun-hye has demanded that everything is done to stop an outbreak of the deadly virus MERS in her country: Middle East Respiratory Syndrome.
Three people have died from the outbreak in South Korea where there are now 35 cases of MERS including several health workers who treated infected patients.
An official from the country's health ministry said around sixteen hundred people have been quarantined in the country.
All of South Korea's MERS infections have been traced to a business man who brought it into the country after a trip to the Middle East.
Hundreds of schools in South Korea were closed or had classed cancelled as of Thursday.
MERS is caused by a coronavirus from the same family as the one that triggered China's outbreak of SARS in 2003. It has a higher death rate but it spreads slower making it less of a threat for now.