Portugal: children's mock riot sparks social media storm

Cops and robbers has long been a classic children's game.
The police want to make children believe that protesters are violent by definition
But it seems that youngsters taking part in a mock riot is a step too far for some, provoking a storm of controversy on social media.
To mark World Children's Day, police visited the Portuguese city of Portalegre and gave children helmets and protective shields. Other youngsters then threw paper balls at them as part of the riot simulation.
Photos of the event were posted online and people were quick to comment.
This first photo was later removed from the Municipio de Portalegre Facebook page.
"What a shame! Are they preparing our children to live in a police state?" asked one social media surfer.
Another commented: "The police want to make children believe that protesters are violent by definition."
Children's Day, June 1st, Portalegre, Portugal: police and municipality organize game btw protesters and riot police. pic.twitter.com/rfRhJpURaZ

— Pedro Magalhães (@PCMagalhaes) junio 2, 2015
Austeritarian education in Portalegre: the police simulated interventions of the riot police for Children's Day. pic.twitter.com/xJVXGTosoE

— Modes of Criticism (@modescriticism) junio 2, 2015
Portalegre's Mayor, Adelaide Teixeira, has defended the riot simulation.
"At no time were the children incited to cause violence," she said.
Teixeira added that the aim was to show pupils "that the police are an authority that must be respected."
Portuguese police responded by saying the simulation was about teaching students about behaviour. They promised to "review" their methods.
Pictures of the scene have been the basis for some to let their creative skills run wild.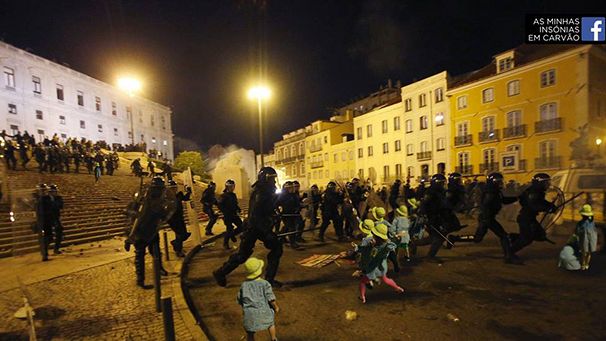 facebook.com/asminhasinsoniasemcarvao