Palestinians protest Israeli light festival in East Jerusalem
Comments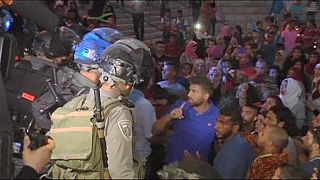 Police used stun grenades on Wednesday to disperse hundreds of Palestinians protesting against an Israeli light festival held in the Old City of Jerusalem.
Many Palestinians view East Jerusalem as the capital of the state they want to establish – and they see the artistic event as forcing an Israeli mark on the Arab and Islamic identity of the Old City.
Some protesters were pushed to the ground during the scuffles with Israeli security forces, but no serious injuries were reported. Police said four men were arrested.
Palestinian youths staged a counter event at the Damascus Gate in the Old City, organising activities for children and dance performances.
The Light in Jerusalem Festival, during which art works are projected onto the walls of the Old City, is set to run until June 11.