Italian police arrest 44 over migrant centre corruption
Comments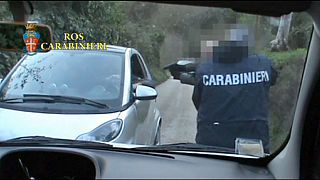 Italian police have arrested forty-four people suspected of being part of a corrupt network of business people and politicians.
Search warrants have been issued against twenty-one other people in Sicily, the centre of the Italy, and the capital Rome.
It follows last year's uncovering of a system designed to allow a cartel of companies to win contracts to manage migrant centres.
Police say the cartel had been able to secure "significant economic benefits" by excluding rival bidders from the contracts.
The corrupt operators have taken advantage of the migrant boat crisis in the Mediterranean which leave authorities struggling to deal with tens of thousands of arrivals to Italy.