Burundi elections put off again, fears of violence rise
Comments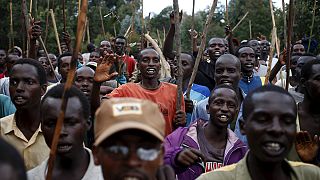 Elections in Burundi, postponed two weeks ago, have been delayed for a second time — local and legislative. Police have been shooting at protesters in the capital. Some 40 people are reported to have been killed in the crackdown.
Bujumbura has not announced a new election date, as tensions remain high. The re-scheduled polls were to have taken place this Friday.
The impoverished and landlocked country of some 10.5 million people is in the Great Lakes region of East Africa.
A presidential ballot is due in three weeks' time.
The crisis blew up when outgoing president Pierre Nkurunziza said he would run for a third term, which goes against the constitution.
A few days ago, at a summit in Dar es Salaam, Tanzania, which is one of the countries neighbouring Burundi, Nkurunziza appeared to yield to pressure from the East African Community (EAC) not to run.
He had been in Dar es Salaam earlier in May, on the 13th, for an EAC meeting, when a Burundi army faction under the command of General Godefroid Niyombare attempted a coup in Nkurunziza's absence.
That military rebellion was stifled by other troops loyal to the president, and he returned to Burundi two days later. The political opposition kept his staying out of the presidential poll a red line, however. Negotiations have been muted.
The economy is virtually paralysed. Ordinary people don't dare go out. Stores, markets and bars are deserted. Many small-scale vendors have sold nothing for weeks.
Burundi is one of the poorest countries. The annual per capita income is around 230 euros; 58 percent of the population are chronically undernourished. The Global Hunger Index has rated it the hungriest country in the world.
Foreign aid has been affected. Cash has dried up. Projects are suspended.
More than 100,000 Burundians have fled across borders, almost three quarters to Tanzania, others to Rwanda and the Democratic of Congo.
A 13-year civil war ended in 2006; now it is feared that wide-scale violence could come back.