Romania, Hungary and Bulgaria focus of EU cash fraud probes
Comments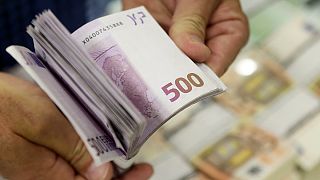 More than a third of probes into alleged corruption involving EU cash centred on Romania, Hungary and Bulgaria, a report has revealed.
Romania had 36 investigations opened against it last year, Hungary 13 and Bulgaria 11, according to OLAF, the European Anti-Fraud Office.
The probes came amid a record year for OLAF: it received 1,417 tip-offs of EU-related fraud, the highest figure for five years.
OLAF only has the power to investigate corruption, not prosecute.
But it has recommended, as a result of its anti-fraud inquiries last year, that prosecutors recover 901 million euros. Just over half of that figure, 476.5m euros, is related to alleged corruption around EU structural funds, which is money Brussels gives to member states in a bid to make the union more equal.
---
Source:
OLAF
---
Yet, there are major question marks around OLAF's effectiveness.
It recommended prosecutors recover 1.58 billion euros because of corruption between 2012 and 2014, but just 418 million euros was recouped.
Anti-corruption campaigners Transparency International (TI) says this shows a need for a more effective response at EU-level.
Dr Janina Berg, senior EU policy officer at TI, told Euronews: "Since OLAF's mandate is limited to administrative investigations, the responsibility of bringing recommended cases to justice lies so far with EU member state authorities – which still too often fail to recover EU taxpayers' money.
"We therefore urge the EU and all EU member states to seize the opportunity to establish the European Public Prosecutor to help tighten the net around fraudsters and cross-border corruption in the EU."
Dr Berg said the number of anti-fraud probes carried out by OLAF in Bulgaria and Romania came as little surprise.
---
---
A TI study found Bulgaria and Romania were among the EU's worst when it came to perceptions of corruption. Both scored 43 out of 100 on the scale, with zero being highly-corrupt. Hungary was given a mark of 54.
OLAF claimed one of its probes in Hungary revealed fraud at a medical centre.
It said the centre applied for 1.7m euros of EU funding for some medical equipment, which had been sourced by its supplier for just 262,000 euros.
The European Regional Development Fund awarded the centre 674,000 euros, which OLAF has told Hungarian authorities to recover in full.
Corruption involving EU structural funds has raised questions about whether the European Commission is doing enough to safeguard Brussels' money.
An EC spokeswoman said: "On our side, we take immediate action, as soon as we detect risks or deficiencies, to protect the EU budget.
"We have a solid audit strategy in place and we carry out 80 to 90 risk-based audits per year, down to the level of beneficiaries in many cases.
"To safeguard the EU budget we systematically interrupt or suspend EU payments as soon as problems are identified.
"We also work hard in cooperation with Member States to eliminate the sources of errors. In 2014 we were able to resume payments to more than half of programmes affected by interruptions, on the basis of audit evidence that all problems were solved and the necessary financial corrections carried out."
OLAF Director-General, Giovanni Kessler said: "OLAF's mission is to detect, investigate and stop fraud involving EU funds. Our work delivers concrete results. It ensures that EU taxpayers' money is used for the purpose for which it was originally intended, creating jobs and growth in Europe.
"The results of our investigative activity in 2014 confirm the strong performance reported by OLAF last year. We have concentrated on those cases where our intervention is most needed and can bring real added value – on complex investigations in areas such as structural funds, customs, smuggling, trade and external aid. These cases will contribute to substantial recoveries to the EU budget."