Benitez appointed new Real Madrid manager
Comments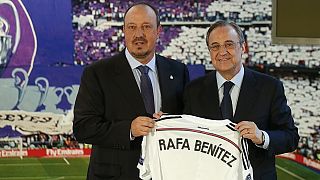 After weeks of speculation, Rafael Benítez has been appointed as Real Madrid's new manager on a three-year contract.
The 55-year-old, who left Napoli upon the expiry of his contract at the end of this season, was in tears during his first press conference for the club on Wednesday as he fulfilled a lifetime's ambition.
Rafael Benitez: ''It's emotional to come home. I don't know what to say. I have always been a hard worker and I want to make sure we win trophies.''
The ex-Liverpool manager returns to Spain after an absence of 11 years, having previously won two La Liga titles with Valencia.
The identity of his assistant coach has yet to be decided but Fernando Morientes, who played under Benitez at Liverpool, appears to be a strong contender.