Basketball brothers win Asturias Sports award
Comments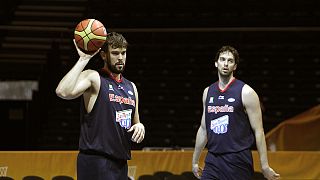 This year's Princess of Asturias Sports award has two winners, the Gasol brothers Pau and Marc, who have been bossing the NBA basketball courts for over a decade, with Pau winning twice with the LA Lakers, and Marc with the Memphis Grizzlies. Both also star in Spain's Olympic team.
Originally from Barcelona the pair moved to the USA with their parents as teenagers to pursue their sporting dreams, and haven't looked back.
Pau has had the more stellar career, becoming only the second non-American to win the rookie of the year award and featuring on five all-star NBA teams. He played at the Lakers for seven seasons before moving to the Chicago Bulls last year.
Bother Marc stayed at the Grizzlies, both mens' first club where Pau still holds most of the individual records, and picked up the NBA defensive player of the year award in 2013. Marc, younger by five years, also has two NBA all-star picks.
Second only to the Nobel prizes, eight Asturias awards have been presented annually by the heir to the Spanish throne since 1981.