Hundreds missing in China Yangtze River cruise ship disaster
Comments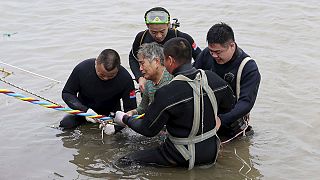 A cruise ship sank overnight on Monday (June 1) in China's Yangtze River during a storm, leaving at least five people dead and nearly 450 people missing, most of them elderly, state media said on Tuesday.
Around a dozen people were rescued, the state media reports said.
Search teams heard sounds coming from within the partially submerged ship about 12 hours after it went down and were trying to confirm whether they were from survivors trapped inside, state broadcaster CCTV said.
The country's official news agency quoted the captain and chief engineer as saying the ship sank quickly after being caught in a cyclone. Both have been rescued and arrested.
Anxious relatives and friends consoled each other as they waited for any news on their loved ones.
Huang Yan, a 49-year-old Shanghai accountant, wept as she told a reporter that she believes that her husband, also 49, and his father, who is in his 70s, were aboard the boat. But she said she could not be sure because she had not seen an official passenger list yet.
Yan shouted: "Why did the captain leave the ship while the passengers were still missing? We want the government to release the name list to see who was on the boat."
As search and rescue efforts continued, some relatives asked why the captain abandoned the boat while passengers were still missing.
Many have headed to a government office in Shanghai to try and get more information about the incident.


A relative of missing passengers on boat that sank in #China's Yangtze River cries outside travel agency in Shanghai pic.twitter.com/2HTksV1XoB

—

AFP

Photo Department (AFPphoto) <a href="https://twitter.com/AFPphoto/status/605637593993228288">June 2, 2015</a></blockquote> <script async src="//platform.twitter.com/widgets.js" charset="utf-8"></script> <br> <blockquote class="twitter-tweet" lang="en" align="center"><p lang="en" dir="ltr">UPDATE: 18 confirmed rescued from sunken China ship as trapped passengers cry for help <a href="http://t.co/nh9MGH3lT5">http://t.co/nh9MGH3lT5</a> <a href="http://t.co/5DAJC3dqGq">pic.twitter.com/5DAJC3dqGq</a></p>&mdash; Fox News (FoxNews) June 2, 2015