Canada: Three tobacco companies ordered to pay billions in damages for failure to inform of health dangers
Comments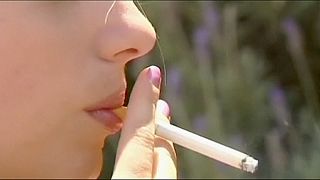 Three tobacco companies have said they would appeal a Canadian court ruling that awarded almost 11 billion euros in damages to Quebec smokers in two related action cases.
Launched in 1998, the case marks the first time tobacco companies have gone to trial in a civil suit in the country.
The director of Quebec Council on Tobacco and Health, an anti-smoking lobby group, Mario Bujold, said it had been "a long process" but it was a "big victory for the victims and against the tobacco companies".
The court has ordered that the three tobacco companies leave at least 730 million euros in trust with their lawyers.
The wife of one of the original plaintiffs, Lise Blais, asked: "Did you stop to think what a cigarette is? It destroys you – your health is completely destroyed."
The damages would compensate around 100,000 Quebec smokers and former smokers who alleged tobacco companies knew they were selling a product that was causing health problems but did not adequately warn consumers.