Solar Impulse 2: team upbeat despite unscheduled Japan stop
Comments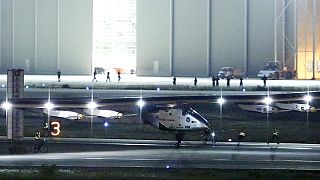 A solar plane attempting to fly around the world has been forced to land in Nagoya, Japan, because of bad weather.
Swiss pilot Andre Borschberg had taken off from Nanjing in China on what was supposed to have been the longest leg of the mission for Solar Impulse 2 – a six-day, 8,000 kilometre flight, across the Pacific, to Hawaii.
"You know, it's one of these strange moments of life between elation and disappointment," said Bertrand Piccard, Co-Founder of the Solar Impulse 2 project.
"On the other side, the window to reach Hawaii has closed, the weather window. So it's a delay of course that disappoints us, but in a moment where everybody is extremely happy with the behaviour of the plane."
Solar Impulse 2 is making its way around the world without using a drop of fuel.
It set off from Abu Dhabi in March and has so far made scheduled stops in Oman, India, Myanmar and China.
The entire route is expected to span across 25 flight days, broken up into different legs.
The solar cell-covered plane – which boasts a wing span larger than a jumbo jet – has a maximum speed of 140 kilometres per hour.