Saakashvili sings support for Ukraine after governor appointment
Comments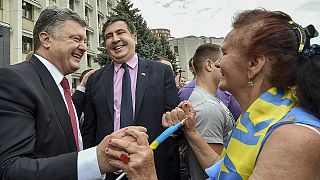 Former Georgian President Mikheil Saakashvili has joined a group of students in reciting Ukraine's national anthem.
Video of the singing was posted on his Facebook page. Text alongside it read: "I accidentally turned up at a graduation party of Odessa's 7th gymnasium, where at three o'clock in the morning, school graduates and I sang Ukraine's anthem without preparation."
Saakashvili has been appointed governor of Ukraine's southern Odessa region and been given Ukrainian citizenship.
It is a surprise move that is being condemned by Georgia's current president, who has described it as an "insult."
Georgia also accuses Saakashvili of abuse of power and has asked for his extradition. He denies any wrongdoing.
Ukraine's President Petro Poroshenko – who is pursuing a course of European integration – has appointed several non-Ukrainian nationals to government posts. He describes Saakashvili as a "great friend" of the country.