Red Bull Air Race: Arch flies to victory in Croatia
Comments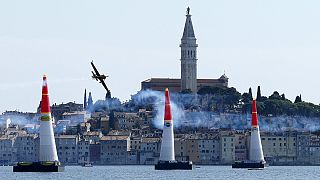 The fly boys stopped off in Rovinj Croatia for the third leg of this season's Red Bull Air Race series.
Spectacular as ever the event saw competitors reach speeds of 370 kilometres an hour plus – low level flying along the shoreline much to the delight of the excited crowd.
Austria's Hannes Arch enjoyed victory in Croatia for a second year running.
The 2008 world champion was just under a tenth of a second faster than Czech Republic's Martin Sonka, who finished a career high second while Australia's Matt Hall took third.
Two time world champion Paul Bonhomme of Great Britain leads the general standings after winning the first two stops of the tour with Hall in second and Arch in third.
The next air race will be in Budapest on July 4th.