Much ado about a loo: Turkey's president challenges opposition over golden toilet seat claims
Comments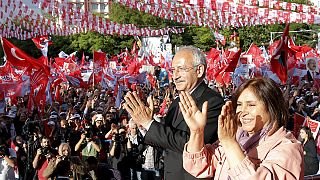 Turkey's election campaign is going down the toilet, after opposition leader Kemal Kilicdaroglu accused the president of using tax payers' money to decorate his presidential palace bathroom, most notably with a golden lavatory.
Recep Tayyip Erdogan has responded by saying he will launch a lawsuit.
In an interview conducted in a palace room decorated with various golden furnishings, the president issued a challenge to the opposition leader.
"I invite him to please come and take a tour … I wonder if he will be able to find such a golden toilet seat in any of these washrooms? If he finds it, I will resign from the presidency. If he can't find them will he resign from his party?"
Costing more than 500m euros, Erdogan's 1,150 room palace has been the source of much criticism from the opposition who say it was built on protected land.