Turkish government majority unsure ahead of national poll
Comments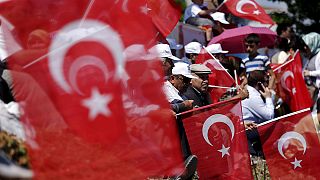 In Turkey's general elections on June 7th, 19 parties will be competing for votes.
These will include communists, liberals, Islamists and former ruling parties, to determine the composition of parliament for the next four years.
For the first time since coming to power in 2002, the ruling Justice and Development Party (AKP) and Prime Minister Ahmet Davutoglu are under fire over the economy. Investment analysts think AKP will win just enough seats to remain in power as a single-party government. One closely watched poll has predicted the right-wing party which has Islamist origins could be forced to form a coalition.
Stalling growth, stubbornly high unemployment and worrying levels of household debt have given the opposition Republican People's Party (CHP) a new line of attack. However, led by former civil servant Kemal Kilicdaroglu, the CHP has been struggling to poll above 30 percent due to its lack of popularity among the Anatolian working class, the millions of pious poor who feel they were shut out by the secular republic for decades.
Leader of the Nationalist Movement Party (MHP) Devlet Bahçeli hammers home a message of AKP mismanagement. Launching campaigning earlier in May, in the central Anatolian province of Çankırı, the leader said: "The bribe-takers have been in government for 13 years," and he highlighted the theme of corruption and abusive spending.
Our correspondent Bora Bayraktar said: "The ruling Justice and Development Party is the biggest alliance in Turkish politics. It brings conservatives and the centre right under one roof. The Republican People's Party and the Nationalist Movement are the oldest political traditions. The main actor in this election is the Peoples' Democratic Party (HDP), which brings Kurds and the left-wing together."
The HDP, established in 2012, is the continuation of disparate Kurdish political forces, many of which were banned. In the past, Kurdish independent candidates elected to parliament later formed groups. This time as a party they hope to win 10 per cent. HDP leader Selahattin Demirtaş ran for president last year and scored almost that much.