Magnussen to miss FINA Worlds due to injury
Comments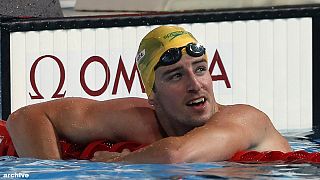 Double World Champion James Magnussen will be unable to defend his 100m freestyle title at the FINA World Championships in Kazan later this year due to a shoulder injury, Swimming Australia said on Sunday.
The 24-year old will undergo immediate surgery after tests showed an injury to his sub-scapular region in his left shoulder caused it to lose 70 percent of its strength.
"Unfortunately surgery is the only viable option if I am to be fit for the 2016 Rio Olympics," Magnussen said in a statement. "I will now focus all my time and effort on preparing for the Olympics next year."
"I am looking forward to regaining full strength in my shoulder and getting back to my best performances."
It is understood that Magnussen has been suffering from the strain injury since February and has had trouble putting pressure on his shoulder when it comes to effort.
His operation is scheduled to take place in the first week of June in Melbourne.
American Olympic champion Nathan Adrian, who won gold in the 100m freestyle ahead of Magnussen at the London 2012 Games, expressed his disappointment to Euronews earlier in the week.
"It is disappointing knowing that the world championship final this summer will not be the best that the world has to offer without James," he said.
"More than anything I hope that his surgery goes well and that his recovery goes and smooth as possible."
With the world championships due to begin in less than two months, Adrian could not stress the impact of an injury so close to a major swimming event of the season enough.
"I am sure it is incredibly hard to hear this kind of news so close to a major international competition," he said.
"The seriousness of this injury cant be understated considering how big of a deal World Championships are in the swimming community."
He finally added: "I would love to race him (again) before Rio".
Swimming Australia head coach Jacco Verhaeren will now name Magnussen's replacement in the 50m and 100m freestyles as well as in the 4×100m freestyle relay team.