Italy's Renzi vows to push on with reforms despite disappointing election results
Comments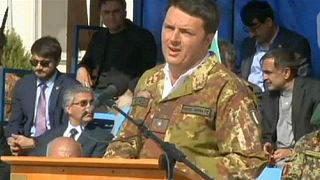 It was business as usual for Italian Prime Minister Matteo Renzi on an official visit to Afghanistan, a day after voters delivered a blow to his ruling Democratic Party in local elections.
Visiting Italian troops the leader is yet to comment on the results, but his party vowed to push on with its controversial labour and education reforms, despite anti-establishment and eurosceptic parties having a strong showing.
Despite a set-back by losing Liguria to Silvio Berlusconi's centre-right Forza Italia, the Democratic Party managed to hold on to four regions and snatch one from its opponents in Campania.
Renzi's government had hoped for a convincing result to push through reforms. But Politics Professor at John Cabot University, Franco Pavoncello said the the result isn't significant for Renzi's staying power. He added that the Renzi government, "has a role to play in terms of reforms at the national government level that no other party, no other coalition at this stage can really fulfil."
Italian newspapers were less sympathetic in their analysis, with La Stampa saying "From now on, it will be harder for Renzi to govern". The low turnout at 54% was also indicative of disillusionment among voters after a campaign tainted by corruption scandals and internal party battles.