Italy: Renzi's Democratic Party loses ground in regional elections
Comments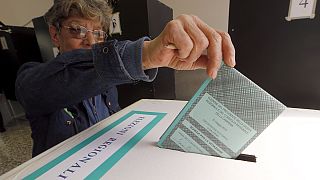 Italian Prime Minister Matteo Renzi has suffered a setback in regional elections.
Although his centre-left Democratic Party has won five of seven regional posts, there has been a marked rise in support for the right-wing Northern League and the anti-establishment 5-Star Movement.
The vote is widely seen as a test of Renzi's popularity a year-and-a-half after taking office.
In a blow to his party, the northwestern region of Liguria fell to the centre-right Forza Italia, which is led by former prime minister and media mogul Silvio Berlusconi.
In Veneto, the Northern League's incumbent governor was re-elected.
Renzi's government was looking for a convincing result, to maintain momentum for labour, education and constitutional reforms.
The plans have come up against fierce resistance from trade unions, opposition politicians and the left-wing of the Democratic Party.