Alistair Brownlee wins London leg of ITU Triathlon World Series
Comments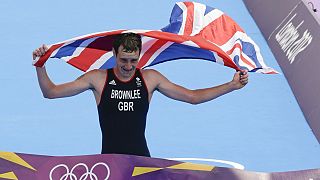 Reigning Olympic champion Alistair Brownlee won the London leg of the ITU World Triathlon on Sunday.
The 27-year-old claimed his second win of the season but struggled during the transition phase between the swim and the bike but came back with dominating speed on the run to claim victory.
His wining time of 50 minutes 39 seconds was more than 12 seconds faster than that of eventual second place finisher, Fernando Alarza of Spain.
Read the full report on @AliBrownleetri's #WTSLondon win here: http://t.co/lM5CJw4DKkpic.twitter.com/cB18ShHrvf

— 220Triathlon (@220Triathlon) May 31, 2015
"I was glad to be able to race to the best of my ability. I haven't done that for a while," he said. "I felt it was the best I've felt for a long time to be honest."
He was quick to note that the field was not without the best athletes, however. "I'm pleased to win, but I'm kind of aware I wasn't against the fastest runners in the sport."
"I think it would have been quite a little bit harder if Murray had been there and Gomez obviously."
"A win is a win though, and I think I'm on 19 now, I'll have to try and get 20 somewhere," he added with a laugh.
He's done it! @AliBrownleetri storms to victory pic.twitter.com/P60If6P2bL

— 220Triathlon (@220Triathlon) May 31, 2015
His brother Johnathon Brownlee, who won bronze at the London Olympics, finished in 42nd place after suffering a puncture which he was forced to repair. He later admitted "there was not a lot I could do".
Spain's Fernando Alarza finished second in a time of 50 minutes 51 seconds while France's Vincent Luis came third in a time of 50 minutes 57 seconds.
Article by Hugo Lowell