Defiant Blatter hits back at critics after FIFA re-election
Comments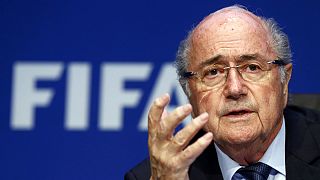 Sepp Blatter has turned on his critics following his re-election as head of football's world governing body for a fifth term.
FIFA's president denounced what he called a "hate" campaign against him emanating from Europe's body UEFA.
And the 79-year-old questioned the timing of arrests of leading football officials in Zurich during the week.
At a news conference in Zurich on Saturday morning Blatter responded to the corruption investigations – where US authorities are examining allegations dating back over two decades, and the Swiss are looking into the bids for the next two World Cups.
"I assume the responsibility of putting the FIFA ship back into calmer waters and in the end bringing about a calm and joyful situation with FIFA robust and beautiful," he said.
Blatter also suggested the arrests of seven top officials in Switzerland this week were an attempt to interfere with FIFA's congress.
Something "didn't smell right", he added.
He had already noted that his strongest critics came from countries like the US which had lost out on World Cup bids.
"The high point was a large police swoop at six o'clock in the morning in a big hotel in Zurich – and curiously at that moment three American journalists were already present."
Blatter's comments appeared to contradict his stance earlier in the week when he said he welcomed the actions of the US and Swiss authorities.
We welcome the actions of the Swiss & US authorities. Read my statement – http://t.co/f2Z25cwm5d

— Joseph S Blatter (@SeppBlatter) 27 Mai 2015
At Saturday's news conference, Sepp Blatter also brushed aside major sponsors' concerns about FIFA's tainted image and demands that it clean up its act.
Major FIFA backers such as Coca-Cola and McDonald's pour billions into football, but although some sponsors have expressed serious concerns, suggestions that they may actually drop their support have been dismissed by at least one industry insider.
Blatter said he would visit sponsors individually, and claimed that under his leadership FIFA had taken a tough stance on corruption, citing members who had left or been investigated.
We're in Ministry of Truth territory – loads of our people have been caught for dodgy behavior, therefore we're not corrupt.

— Owen Gibson (@owen_g) 30 Mai 2015
Blatter's re-election has deeply divided the football world – pitting his critics in Europe against his supporters elsewhere, especially in Africa, as well as in Asia and South America.
President Putin of Russia – which won the 2018 World Cup bid – has congratulated him on his re-election.
English Football Association vice-chairman David Gill confirmed on Saturday he will not take up his post on FIFA's executive committee following Blatter's re-election.
"This action is not something I take lightly but the terribly damaging events of the last three days have convinced me it is not appropriate to be a member of the FIFA executive committee under the current leadership," he told British media.
Gill's decision was praised by Britain's Prince William, who as president of the English Football Association called on FIFA to reform and show "it can represent the interests of fair play" in a speech at the FA Cup final in London on Saturday.
"There seems to be a huge disconnect between the sense of fair play that guides those playing and supporting the game, and the allegations of corruption that have long lingered around the management of the sport internationally," he said.
A leading figure in European football, the head of the Dutch Football Union Bert van Oostveen, has attacked what he called the disproportionate influence of smaller countries within FIFA, floating the idea of a rival tournament to the World Cup being organised among larger footballing nations.
FIFA's voting system gives each nation the same weight, regardless of population or the country's standing within the game.
UEFA President statement on FIFA election http://t.co/yQPE63YIYX

—

UEFA

(@UEFA) 29 Mai 2015
However, FIFA is not without friends even in Europe. Although UEFA's President, Frenchman Michel Platini, had called for Blatter to stand down, the head of the French Football Federation Noël Le Graët was among those who voted for the FIFA veteran. "I think that Western Europe has let rip a bit too much, in my opinion, against Blatter," he told L'Equipe newspaper. "Unless there's proof to the contrary, in the cases we're talking about money was not taken out of FIFA's coffers."
The American investigation has seen 14 people indicted on corruption charges for amounts totalling $150m (135 million euros). Seven senior FIFA officials were arrested in Switzerland. Another two are under investigation, as well as five marketing executives. They are accused of bribery, racketeering and money-laundering dating back to 1991.
Setting out the charges earlier in the week, US Attorney General Loretta Lynch described corruption in football as "rampant, systemic and deep-rooted both abroad and here in the United States".
Separately, a criminal investigation has been launched by Swiss authorities into the bidding process for the 2018 and 2022 World Cups, awarded to Russia and Qatar respectively. It is at an early stage and has mentioned FIFA as the "victim". The inquiry is expected to focus on individuals accused of money laundering, offences which carry potential prison terms.
The choice of desert state Qatar was especially contentious and went against the advice of FIFA's own technical committee. The soaring number of foreign workers killed on World Cup construction sites has caused outrage.
The shocking migrant death toll (so far) in Qatar since it was awarded the World Cup.It's way in excess of any other major recent sporting event…Watch more from Alex Thomson: https://www.youtube.com/watch?v=nCc_raw8cgI

Posted by Channel 4 News on Thursday, 28 May 2015