Eiffel Tower 'pickpocket gang' detained by Paris police
Comments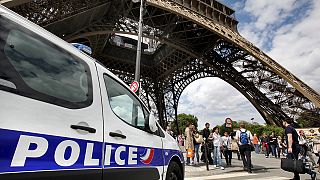 Police in Paris have arrested a gang of suspected pickpockets, thought to have targeted tourists at the Eiffel Tower – and to have made up to 4,000 euros a day.
Those held are all said to be Romanian nationals.
It comes days after a strike at the tower, one of the world's best known tourist attractions, as staff demanded more help to deal with the pickpocket problem.
France is the most visited country in the world, welcoming almost 85 million foreigners a year, according to government figures. Paris had 47 million visitors in 2014, about half of them from abroad.