Class dismissed: the hi-tech and teaching innovations changing traditional education
Comments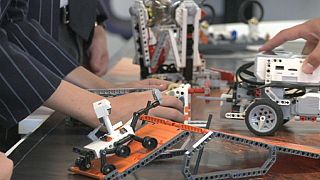 Technology and innovation are changing the world faster than ever before. But is education keeping pace with these rapid changes and equipping young people for life in a constantly evolving work environment? That' the question in this edition of Learning World. Maha Barada presents three stories exploring this theme from different angles and in different locations.
Rather than just having a test that allows you to test memory recall, have a test that allows problem solving, working with each other.
Australia: keeping up with technology
Sheldon College in Brisbane, Australia has opened an innovative, interdisciplinary education centre designed to equip students with skills they can hopefully adapt to any new technological advances. LINQ Precinct houses a Business Enterprise Centre, a Design Technology workshop and even a prototyping and robotics lab. Its teachers say the facilities should prepare pupils for technical innovations that haven't even happened yet.
Brazil: curiosity and communication
Brazil's education system still lags behind many of its counterparts in other countries, despite increased spending and efforts by the government to raise standards.
But its problems are not just about resources and facilities; teaching methods also need reform. Some pioneering projects are remodeling teaching, taking a collaborative approach in which students are encouraged to take more responsibility and manage their own affairs. Our second report focus on one public high school in Rio where this new philosophy is producing amazing results.
UK: new frontiers
With sweeping innovations in technology and student-focused education set to revolutionise how young people learn, some believe schools of the future will be radically different. Graham Brown-Martin is the founder of Learning Without Frontiers, a global think tank that brought together renowned educators, technologists and creatives to share provocative and challenging ideas about the future of learning. We meet him and discover his vision of future education in our final report. Among his predictions is mandatory use of mobile devices in exams!
Watch the video to see these stories in full.