Greece designs new two-euro coin amid fears of Grexit
Comments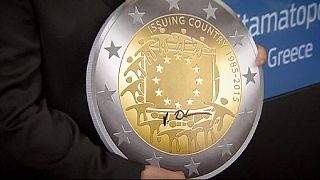 Greece, beset by fears its economic troubles could force it out of the 19-member euro zone, has won a competition to design the logo of a commemorative two-euro coin.
The design by George Stamatopoulos, an engraver at the Greek central bank, depicts 12 people forming a human chain around the European Union flag – 12 gold stars on a blue background – marking its 30th anniversary.
Stamatopoulos also won the competition in 2009, to celebrate 10 years of Economic and Monetary Union.
Long-considered Europe's problem child, Greece has tottered close to bankruptcy since its economic crisis broke out in late 2009 and nearly crashed out of the common currency bloc in 2012.
About 75 million coins will circulate in euro zone countries starting in July.
Thursday Humor: Greece Wins Contest To Design New Euro Coin http://t.co/7z623dcU3R#trading#stockspic.twitter.com/Jxhc5iCmWr

— Edouard Soutzo (@EdouardSoutzo) May 28, 2015