Eastern Ukraine: separatists 'will not push for independence,' says spokesperson
Comments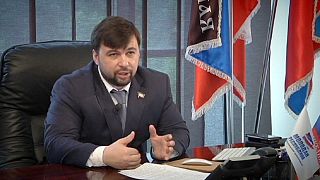 The situation in eastern Ukraine seems to be at a crossroads: between a fragile and regularly-violated truce among pro-Russian rebel forces and Ukrainian government soldiers, and escalating conflict in the region.
While under the control of anti-Kyiv forces, the area is not independent. Euronews asked a representative of the self-proclaimed Donetsk People's Republic whether the separatists intended to take over Mariupol in order to gain autonomy.
"At this very moment, we are just working according to the Minsk agreement," said Denis Pushilin. "And the Minsk agreement memorandum of September 19 talks about a demarcation line. This demarcation line does not include Mariupol and Severodonestsk.
"We are now working towards fulfilling this agreement, according to a set of measures outlined on February 12. If this is also followed by Kyiv, and not just unilaterally by us, then we will build a kind of relationship. That's to say, a common ground with Kyiv on autonomy on some points."
In other words, Pushilin says the rebel strongholds in the east will not be pushing the boundaries or seeking independence.
However, other points on the Minsk agreement are being tested. Rebel forces are reported to have said they don't see an end to the fighting in the area, despite a ceasefire agreed in February.
Local resident Vladimir Tikhonov outlined the situation.
"This is the so-called ceasefire: for three days now, at 6pm sharp, they start fighting. Yesterday we lost electricity at 11pm, due to shelling. They shoot from here and Ukrainian forces shoot back. We are the hostages of the situation."
The humanitarian situation is increasingly desperate, with casualties reported in eastern regions almost daily.