Vienna airport security workers probed for people trafficking
Comments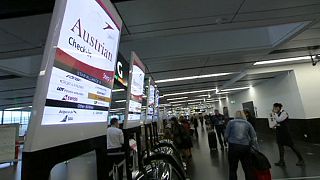 Thirteen security workers at Vienna International Airport are under investigation. Police suspect they were involved in a people trafficking network, smuggling refugees through security checks and onto flights to the Britain and the US.
A statement issued by prosecutors claim the workers collected between 7,000 and 9,000 euros for each person trafficked.
Peter Thier, spokesman for Austrian Airlines who has its headquarters at the airport, said the airline "hires a security company to perform the multiple security procedures needed to enter the United States, whose requirements are more strict than in other countries." Thier added "If you ask me: Can we do it better? Of course we can do it better. You can learn how to deal with these things and we have to see what we can do in the future to prevent such criminal actions from an employee."
British security firm G4S said one of its workers was under suspicion in the scheme and has been sacked. A G4S statement said it was working closely with authorities.