Shi'ite militias 'in charge' of anti-ISIL campaign in Iraq
Comments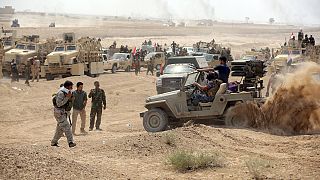 Pro-government forces in Iraq say they have started a military operation to retake the western Anbar province from ISIL insurgents.
It comes after the regional capital Ramadi was captured by the self-proclaimed Islamic State a week ago.
The Iraqi air force has been attacking ISIL targets with air strikes.
Now Iraq's Shi'ite volunteer paramilitary forces say they have taken charge of the campaign.
"We have about 4,000 fighters from al-Hashd al-Shaabi (the Popular Mobilisation Committees) from Salahuddin province… They have been fighting with us for eight to nine months. They are now an essential part of the battle," said a spokesman for the Shi'ite paramilitaries, Ahmed al-Assadi.
ISIL's gains have raised doubts about US strategy – supplying some weapons and bombing ISIL from the air but leaving ground operations to local forces.
The Pentagon has criticised the openly sectarian codename given to the Shi'ite militia operation in Anbar province which it's feared could infuriate Sunnis.
Washington has again slammed the Iraqi forces who retreated from Ramadi, prompting a mass civilian exodus.
After the Defense Secretary accused them of lacking the will to fight, the Pentagon has now added that the Iraqi forces had withdrawn despite enjoying a substantial advantage in combat power over the jihadists.