Russian ruble keeps rolling out in 'Donetsk People's Republic'
Comments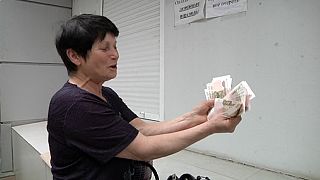 The self-declared Donetsk People's Republic (DPR) has two currencies in circulation: Ukrainian Hryvnas and Russian Rubles.
In November Ukraine cut social welfare to those living in the territory claiming it was being used to finance the war. Pensions are now paid in Rubles by the self-declared DPR government.
Euronews spoke with Evgeny, a retired miner who has noticed the difference.
Evgeny explained that inflation has made his pension of 8,000 rubles (144 euros) worth less, so he is three times poorer.
Most locals are making ends meet with the help of humanitarian aid offered by the Rinat Ahmetov fund.
"Generally speaking, the proportion of Ruble payments is now probably higher than the payments made in Hryvanas and step by step it's becoming an important factor in our consolidation and integration into the Russian space through the economy and finance," explained Sergey Barishnikov, head of the political science department of the University of Donetsk.
Although the fighting in Ukraine's east has lessened significantly, the struggle for locals affected by the crisis continues.