Iran begins trial of US journalist held for ten months
Comments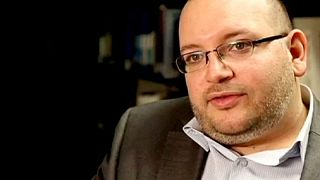 The trial of Jason Rezaian has begun — the Washington Post correspondent who has been detained in Iran for almost 10 months. The accusation against Rezaian, in Tehran's words, is of "espionage for the hostile government of the United States of America and propaganda activities against the system".
The Washington Post described Rezaian's prosecution to euronews as "contemptible".
Douglas Jehl, the newspaper's Foreign Policy Editor, said: "Our focus really has been relentless throughout, on trying to win Jason's freedom. We have worked with just about everyone who could possibly help us: governments, private emissaries and others, in hopes that the word could get to Iran that it was ludicrous that they be holding a journalist in the way that they have been holding Jason now for 300 days."
Iran experts in Washington see the case as a sign of a power struggle between rival factions in Tehran.
Reza Marashi, with the National Iranian American Council, and a close friend of Rezaian, said:
"This is a bigger political struggle or political battle inside of Tehran and there are some people in Iran who want to build bridges between Iran and the outside world, and there are some people who want to blow up those bridges while innocent people like Jason are standing on them. They see an Iranian-American journalist like Jason — who has nothing to do with any of the internal political battles in Iran, has nothing to do with US-Iran relations — more broadly. A small group of people who make bad decisions in Iran can use Jason as a pawn."
Our Washington correspondent Stefan Grobe said: "The outcome of the trial is totally unpredictable in a country whose judicial system is described by western experts as inefficient and corrupt. So far, the case has had no influence on the Iran nuclear talks, but the overall diplomatic atmosphere might be poisoned should any harm come to Jason Rezaian."
Grobe talked to Jason's brother, Ali Rezaian, in Washington on the day before the trial began.
Stefan Grobe, euronews: "I can barely imagine the harrowing experience it must have been for you. Tell us, please, how you and your family have gone through this over the last ten months."
Ali Rezaian, brother of Jason Rezaian: "Sure. It has been such a long time that this has been happening, it has been unbelievable. I think all of us have different experiences. My mother lives by herself in Istanbul. She has a wonderful group of friends and family around the world who support her through social media, on the phone and those kind of things, but she is clearly worried for Jason. She lived in Iran for almost a year with Jason, two years ago. So she is very familiar with the culture, and Jason had never had problems like that. For other parts of the family, we have relatives in Iran. Jason's wife [Yeganeh Salehi] is there. She was held for 72 days and then let out on bail. But since then, they still call her, the interrogators call her: 'Where have you been? Why are you out?' and those kind of things. So it hasn't stopped just because she has been out of jail for eight months. For me and myself, I have been working on this. It has really changed my life."
euronews: "How and when did you learn about the trial?"
Ali Rezaian: "About the trial: we were expecting it to happen at about this time, maybe about a month ago, but we didn't know for certain. It wasn't until last week, maybe ten days ago that our lawyer was told by the judge that it could be in about this time frame and then in the middle of last week, it was when they finalised it. What I can tell you is, because Jason is isolated, because Jason doesn't have access to his lawyer or those kinds of things, Jason actually found out about his trial through the press. He watched it on television, and it said 'Jason Rezaian will have his trial on May 26th.' That's how things work over there."
euronews: "Let's talk about the role of the US government. From President Obama on downwards they have spoken out repeatedly on this, trying to have Jason released. How do you see Washington's role in this? Was it appropriate? Was it enough or not enough? What's your take?"
Ali Rezaian: "Well, you know, I'm Jason's brother, [so, to me] nothing is enough until he is out. I don't really do politics but what I can say is, I think, the Iranian government has taken stances that make it difficult for the United States to deal with them. And that's intentional. So, the US government has been supportive all the way along. The question is: how much can they really affect what's going on over there? Because Iran has practice in detaining people, detaining dual nationals and keeping them locked up for a long time. So, we have done our best to understand what's going on, they have done their best to let us know what's happening and, I think, that we have worked well together with the government."
euronews: "And finally, is there any lesson to be learned from this?"
Ali Rezaian: "You know, what I think you learn from this is that it's a place where, while they have rules and they talk about the rules and they talk about the laws, they don't have to follow them. There is nobody there that is going to be held accountable for breaking their own laws, breaking the international commitments and the international laws that they have signed up to. I have talked with dozens and dozens of reporters from the United States, from other countries who have reported in Iran, I have never spoken to one who said: 'Oh yeah, I went over there and they never caused me any problems.' Every one of them has been detained in one way or another. Maybe for two or three hours on the side of the road, maybe for two or three days somewhere at their hotel or even in prison for a week for doing nothing more than going to be a journalist when they were accredited to be there. They were doing their job, they were doing exactly what they said they were going to do when they were approved to go there, at the places and the times when they said they were going to go there. That's the lesson that I take away from it."