Spanish voters punish mainstream parties in local and regional elections
Comments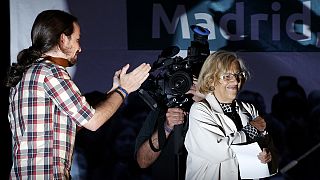 Spain's new anti-austerity Podemos and market friendly Ciudadanos have made gains in local and regional elections at the expense of mainstream parties.
New parties in Spain win strong support in local elections, exit poll indicates: http://t.co/uqbCf1NUtd

— The Associated Press (@AP) May 24, 2015
In Madrid , Prime Minister Rajoy's People's Party (PP) looks set to lose out to a leftist coalition for the first time in 24 years..
Podemos ("We Can" ) leader, Pablo Iglesia explained what he thought was the significance of Sunday's vote:
"It's a magic night in Spain. And probably these days are the starting days for the change. After the European elections I said the change is possible in Spain and now it's a reality. I think this spring of change that will bring us to the victory in elections in November against Spanish PP (People's Party)."
The Spanish economy has been a key concern for voters and many are enraged over public spending cuts and reports of political corruption. While Spain is now officially out of recession, unemployment remains high – nearly one in four workers is without a job.
Although the PP won the most votes in Madrid both it and the socialists have fallen short of overall majorities in most areas,losing out to the new arrivals on the political scene.
The PP took 21 seats in Madrid but Ahora Madrid backed by Podemos, took 20 and could now form a coalition with the Socialists (PSOE) who came third..
In Barcelona, former community activist Ada Colau, backed by Podemos won the most votes in the mayoral race inflicting damage on the Catalan separatist movement at the same time..
The elections in over 8,000 town halls and 13 regional parliaments have been seen as a barometer for national elections at the end of the year.
Our reporter Francisco Fuentes reflected on Spain's new political landscape by looking at the situation in Barcelona. He said that the municipal elections there were the tightest in history. The leftist Comú candidate won it however the new city council is typical of so many across the country in that it will now be made up of several political parties.