One month after the quake Nepal waits in vain for salvation
Comments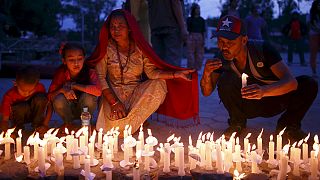 It is a month since an earthquake shattered Nepal, but it seems like an eternity for the survivors. Fear still runs high of more tremors, and there is no end in sight to the suffering.
In some areas 95% of buildings are gone. Primary healthcare networks are down, stalling vaccination programmes and putting pregnant women at risk. Aid is only reaching people sporadically, and the rebuilding task seems impossible.
"We are still staying in a plastic shelter. We even don't have a tent, not even the ones that were distributed by the government. We are still scared and worried and we are not even sure how many more months this will continue," said market vendor Maya Devi.
The UN says it has yet to receive much of the aid promised. For the moment volunteers and NGOs are leading the way, with many concentrating on children, trying to maintain basic education, and keeping them safe.
"Just recently we were complaining about how packed our class was. Now I really miss that class. I would do anything to get that class back. I miss my homework, I miss our teachers, I miss what we used to learn," said young girl Dollma Tshering, in clear, precise English.
Already broken and vulnerable Nepal is now at the mercy of the oncoming rainy season, which could wreak havoc, worsening landslides that frequently rumble down the destabilised mountainsides, drawing anxious crowds.