One child reported missing in Europe every two minutes
Comments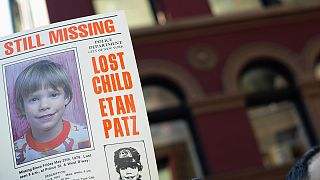 Events are being held around the world to raise awareness of young people who have disappeared.
International Missing Children's Day (25 May 2015) also encourages people to think about those who have previously vanished and returned home – and those who have been victims of crime.
UK-based charity Missing People is promoting a Big Tweet – supported by celebrity figures, including Simon Cowell.
The day started out in the United States in 1983, before going global in 2001 – supported by the International Centre for Missing and Exploited Children (IMEC), Missing Children Europe and the European Commission.
Missing children: Facts and figures
250,000 children are reported missing in the European Union every year, the equivalent of around 1 child every 2 minutes (European Commission)
Missing children include several categories of child disappearances, including parental abductions, runaways*, missing unaccompanied migrant minors and criminal abductions
Two to five percent of missing children cases reported involve third party criminal abductions (Missing Children Europe Annual Report 2014)
Runaways make up 50% of missing children cases reported through hot-lines (Missing Children Europe Annual Report 2014)
1 in 6 runaways are assumed to sleep rough, 1 in 8 resort to stealing to survive and 1 in 12 children are at serious risk of some form of abuse (The Children's Society)
It's estimated that around 140,000 cases of missing children are reported annually in the UK, the equivalent of around 380 per day (missingchildreneurope.eu)
Missing Children Europe's Belgian member "Child Focus" opens an average of 4 new cases a day
1 child is reported missing every 2 minutes in Europe. For International Missing Children's day, join our thunderclap http://t.co/zU7jpq6BD4

— Missing Children EU (@MissingChildEU) 25 Mai 2015
Missing children hotlines saw a 200% increase in calls received in 2014 since 2012. Learn more & donate http://t.co/nfGCvshd3G#Save116000

— Missing Children EU (@MissingChildEU) 25 Mai 2015