Protests as debate over GM crops and pesticides heats up
Comments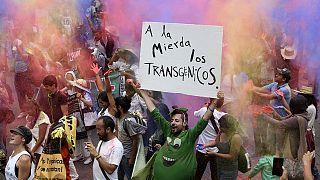 Protests have been held in more than 40 countries against the US food giant Monsanto and its genetically modified foods and pesticides.
From Mexico City to Burkino Faso, demonstrators made their anger felt at what they said was the threat to biodiversity and ecosystems from the company's products.
Similar fears in Argentina have seen doctors sign a petition to get one herbicide – which is created by Monsanto – banned.
Doctor Medardo Avila Vasquez said: "If a woman gets pregnant during the period of crop fertilization, the risk is very high that she will have a disabled baby."
"This type of production to create genetically modified soya poisons us. It poisons the air, the water, the soil … It kills our children, our partners, it gives us cancer," Vasquez added.
The company insists its products are safe.
But the World Health Organisation recently classified the the pesticide's main ingredient as "probably carcinogenic to humans".
Around 2,500 people took part in protests in Switzerland calling for a 10 year moratorium to allow more independent research into the effects of the treatment.