Eurovision Song Contest set to celebrate its diamond jubilee in Vienna
Comments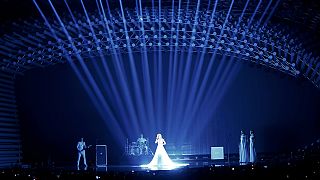 Tuning up for a musical jamboree in Vienna. The city that gave the world the elegance of the Blue Danube waltz was reverberating to the sound of rehearsals for the diamond jubilee of the Eurovision Song Contest.
It will be the biggest in the history of the event which divides opinion and can launch music careers – you only have to think Abba.
Fun for some while other contestants are bringing a message to an estimated worldwide audience of 200 million viewers. Hungary contestant Boggie's theme in her lyrics is anti-war.
"I believe on every stage it is important to sing a song with a message, I believe this is the essence of art, so I am very proud that I can represent my country with a song like this because absolutely this is something that differentiates me from many other singers," she said.
Elnur Huseynov who is representing Azerbaijan also has a song with a message.
"I have a message in my song and the message is: don't give up whatever you face in in your life, you should not give up. There are strengths which you have inside, fight for your better future, fight for your happiness," he explained.
The show is not only gong on in the Wiener Stadthalle other events for Eurovision lovers were staged across the city. One of which was a look-a-like contest of last year's winner Austria's bearded drag queen Conchita Wurst.
It's hoped the final will show a light-hearted side to the opulent capital often viewed as a conservative European city. It will also provide a financial boost of around 26 million euros.
"It's so much fun, and its one of the only opportunities when everyone gets together from Europe – and Australia this year – to celebrate music. I love when all the countries do something from their own country or they sing in their own language, it's really nice," explained a British fan.
Sweden tops the favourites followed by the Russian and Italian entrants to win in Vienna.