Will voters oust 'la casta' in Spain's regional elections?
Comments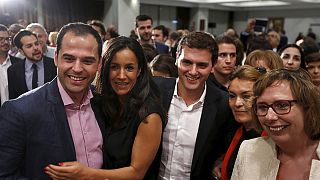 Regional elections in Spain on Sunday are expected to show whether fast-growing support for anti-establishment parties can be turned into political power.
With sky-high unemployment and seemingly never-ending government corruption cases, analysts predict many voters are ready for change as they elect leaders for 13 of the country's 17 autonomous regions.
But in many areas, the radical newcomers Podemos also face a threat from a centre-right version of their own party – Ciudadanos – which has seen its support strengthen in recent months.
The two political upstarts threaten to end the dominance of Spain's two main parties – the centre-right Popular Party and Socialist PSOE – who between them have ruled for 40 years.
Podemos has campaigned to oust 'la casta' (the political elite) and bring in a more participatory form of democracy. Ciudadanos is seen by many Spaniards as a more realistic form of anti-establishment party.
#YoVotoCiudadanos porque mi pueblo, mi provincia, mi comunidad, mi país, mi España necesita un cambio sensato. pic.twitter.com/e30igvoSYt

— Antonio Garre Oltra (@nikitas_nipones) May 22, 2015
Sunday's regional polls are also being seen as a precursor to the national election, which is due in December.
Although Catalonia doesn't hold its regional vote until September, all eyes are on the election for Mayor in Barcelona.
It is seen as a race between incumbent Xavier Trias – campaigning for independence – and an alliance of leftist parties named 'Barcelona in Common' led by Ada Coleau.
VIDEOAdaColau</a> &quot;Només podrem governar Barcelona si som la llista més votada&quot; <a href="http://t.co/W79EvkTAnY">http://t.co/W79EvkTAnY</a>&#10;<a href="https://twitter.com/hashtag/VotaBcom%C3%BA?src=hash">#VotaBcomú</a></p>&mdash; Barcelona en Comú (bcnencomu) May 22, 2015
Having fought against the wave of mortgage repossessions following Spain's economic crisis, Coleau has vowed to continue tackling growing inequality if she wins.
Francisco Fuentes, euronews' correspondent in Barcelona said: "With between 30 and 45 percent of all voters still undecided, Saturday will likely to be a day of reflection. Voters will get to determine whether this turns out to be the beginning of the end of the ruling Popular Party in many municipalities and regions."
Read more
Spanish regional elections will be critical test for two party system
Politics fracturing all over Europe,nowhere so dramatically as Spain