Ivory Coast 'luggage boy' given temporary residence in Spain
Comments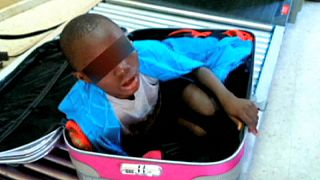 An eight-year-old African boy who had been hidden in a suitcase in a bid to smuggle him into Spain has been granted temporary residence.
Adou Ouattara from Ivory Coast was spotted earlier this month by border agents in Spain's north African enclave of Ceuta as the luggage went through a security scanner.
The boy, who could barely breathe, has been given a year's permit. He will be able to rejoin his mother once DNA tests confirm their relationship.
"He's my child, I have all the documents that prove that, at home," said his mother, Lucie Ouattara.
The boy's parents live legally in Fuerteventura in the Canary Islands, but his father's monthly salary was 41 euros short of the 1,331 euros required under Spanish law in order for him to bring his son into the country lawfully.
Notice of Adou's residence permit has now been sent to the centre for children where he's been staying.
"A humanitarian objective does not justify violating the law, much less jeopardising a child's life, we must underline that because otherwise, we can incite this sort of illegal behaviour," said Spain's Interior Minister Jorge Fernández Díaz.
The boy's father, Ali Ouattara, remains in custody, charged with human rights abuses.
Arrested at the border crossing, he claimed to have paid human traffickers 5,000 euros but denied knowing his son would be hidden in a suitcase.