Huge funeral crowd honours victims of Colombian landslide
Comments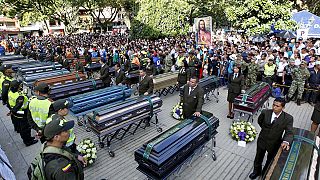 The funeral has been held in Colombia of 33 of the 84 victims of the Salgar landslide. Many other people remain unaccounted for.
Monday's flash flood submerged much of this small coffee-growing town in a sea of mud, and there is now no hope of finding any survivors left alive. It is the country's worst natural disaster since 1999, and the funeral brought out a crowd of over 5000 mourners.
Such was the crush from the crowd that soldiers had to form a cordon around Salgar's Catholic church to prevent people spilling into its cemetery. Several high-ranking army officers also attended.