Tension rises in Burundi after deadly street clashes resume
Comments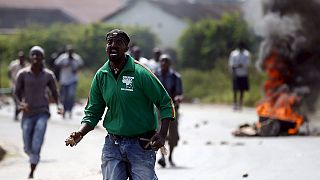 Tensions are high in Burundi where President Pierre Nkurunziza has been able to put down an attempted coup, but unable to stop a resumption of street violence in which the Red Cross says at least two people died on Thursday.
Heavy gunfire in the capital's Musaga district was heard throughout Wednesday night, and crowds came back onto the streets at daylight to demand that the president does not seek a third term. Nkurunziza's critics say a third term is unconstitutional, which he rejects on the grounds his first term was a parliamentary appointment and not a popular vote.
"This is a person, killed before our eyes. We ask President Obama and the rest of the world to rise up. They need to stop this man," said one protester.
"No, these things should not exist. We have to stop these acts. Burundi is tired, we want peace," said a young woman.
While this might be seen as just another power struggle in Burundi it could take a more catastrophic turn if ethnic divisions between Burundi's Hutu and Tutsi communities are exploited. The country has suffered huge loss of life from bitter inter-ethnic fighting in the past.