Chinese punk, anyone? Eurovision says music show 'could go global'
Comments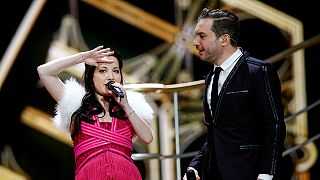 Australia's guest appearance in Eurovision 2015 has already raised eyebrows – but it could become a regular fixture, it's emerged.
A senior figure has told Euronews the contest could go global in the coming years, with China and Canada already expressing an interest.
But Sietse Bakker, Eurovision's event supervisor, insisted any growth beyond Europe's borders would be an 'organic development'.
He said: "The song contest has always organically grown, sometimes a little faster than Europe, sometimes a little slower.
"But I think it's really whether the broadcasters in the countries outside of Europe are interested in this song contest – only then can the song contest grow beyond the borders it has now.
"Now we have the one-time participation of Australia and we see increasing interest from Canada and China and if that interest grows who knows in a couple of years we would have a world song contest.
"But I don't think we can enforce that but if it should happen it will be an organic development."
Eurovision, celebrating its 60th year, will be shown in Australia by the Special Broadcasting Service (SBS).
The contest has already been expanded – such as the inclusion of Israel in 1973 – but Australia's one-off appearance is its most ambitious to date.
The singing extravaganza's organisers, the European Broadcasting Union, had previously said the only way Australia could return for the 2016 contest was if it won this year's competition in Vienna.