Sweden's Eurovision head warns over competition costs
Comments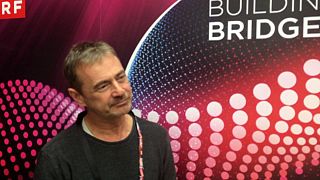 [This interview was conducted before Sweden's Mans Zemerlow won the 2015 Eurovision]
The Eurovision song contest has grown unweildy to the point that winning can become a "burden", according to one of the most experienced members of the setup.
Christer Björkman, currently head of the Swedish delegation has been involved in the competition since 1992. He gave Euronews a frank appraisal of its strengths and weaknesses.
"Eurovision is all about Building Bridges, to get to know each others' cultures. It has grown a lot, it has become huge, from 22 countries to 40 entries! When it comes to entertainment, it is the biggest event in the world", he said.
As Vienna has attracted thousands of visitors these days, Christer Björkman absolutely feels that Eurovision is like Olympic Games: "It is built upon the same idea and aims to overcome differences. As the friendly and peaceful games, we have entertainment, fun and easy-going shows".
Despite the fact that everybody wants to win, "Eurovision becomes so expensive, it is a burden to win at times". As Eurovision Reference Group member, he states that the problem is that "it costs a lot of money and we really should size it down a little bit, because we put a lot of pressure on the host broadcaster".
Sharing thoughts on how people is motivated to watch the Contest, Mr. Björkman believes that countries need to have a good national selection pre-show. Sweden has the most-watched national selection show, the very popular so-called "Melodifestivalen", with people attending every year from all over the world. "I would not sell the format, but I would gladly help out if somebody wants to do it".
"For a song to become a hit it has to be updated and you should have a good artist and a unique act. It is the package that wins".
And of course the trump card of Eurovision is its broad appeal: "The target group is everyone. It address to all generations, it has become a social think, as it is watched in groups".
Christer Björkman
Starting as a viewer in 1967, Björkman represented Sweden as a singer in 1992, he is a TV- presenter, and since 2002 he was in charge of the Swedish acts. He now works as Head of the Swedish Delegation and is an elected Eurovision Reference Group member