Refugees pour out of Ramadi as battle for city rages
Comments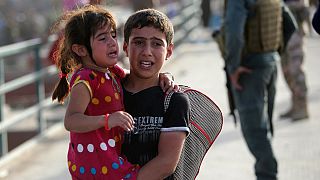 Refugees are fleeing in their thousands from the capital of Iraq's Anbar province, Ramadi.
Fighting continues to rage on the approaches, outskirts, and several districts of the city, which has been overrun by the so-called Islamic State extremists. Government forces led by Shia militias are determined to retake the vital city from the Islamic militants they call Daesh.
"Al-Hashid militias have experience and knowledge and they're coordinating with Iraqi security forces to hit Daesh in their hideouts. This field expertise in urban war can be added to the field expertise of the forces of the Interior and Defence Ministries. The result will be the elimination of Daesh, especially in Ramadi," said Brigadier general Saad Maan.
The Iraqi government says it will retake Ramadi in "a matter of days".
But for the city's near half-a-million people salvation cannot come quickly enough. The majority Sunni population is also fearful the Shia militias may be just as bad once they have "liberated" them from ISIL if they are not kept in check by the regular army.