Norwegian cruise ship runs aground off Bermuda
Comments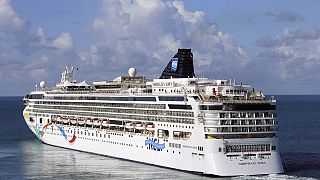 A Norwegian Cruise Line ship has run aground on a reef as it was leaving Bermuda.The Norwegian Dawn was returning to Boston with 2675 passengers and more than 1000 crew. There have been no reports of injuries.
A small boat has been launched to check for damage as well as two tug boats and scuba divers in wet suits are being used to investigate below the water line.
The ship's propulsion is said to have been affected but it still has full power and on board services are continuing.
The captain said " we just won't be moving for a while".