Malaysia and Indonesia offer shelter to 7,000 'boat people'
Comments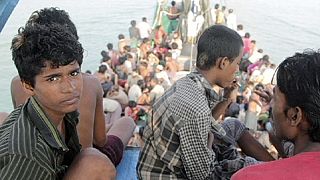 Malaysia and Indonesia have said they will offer temporary shelter to 7,000 migrants at sea but that is the limit.
They said it is on the understanding that they will be repatriated within a year.
The agreement follows an emergency meeting of the foreign ministers of Malaysia, Thailand and Indonesia in Kuala Lumpur to discuss the so called "boat people" who have been arriving at their shores.
The migrants are Rohingya Muslims from Myanmar and Bangladeshis who fled persecution and poverty.
Thailand still refuses to accept any of them but offered humanitarian aid and assistance at sea if required.
Earlier on Wednesday around 350 Rohingya Muslims were helped ashore in northern Indonesia by local fisherman.
This latest group adds to more than 2,000 who have managed to land in Indonesia and Malaysia after weeks of drifting in the Andaman Sea with little food or water.