Hungarian Gripen fighter plane crashes in Czech Republic
Comments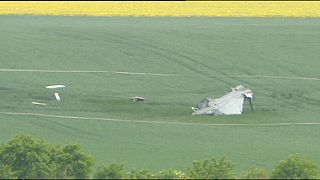 The crew of a Hungarian fighter plane managed to eject to safety before it crashed at the Czech military base in Caslav.
The plane a JAS-39 Gripen was all but destroyed with the wing and tails badly damaged and the cockpit torn off.
The crew was unable to finish a breaking manoeuvre successfully. The traffic at the military airport was suspended and investigators are examining the cause of the accident.
The plane was taking part in international military exercises along with Sweden and Thailand.