Army brought in to break bread strike in Bolivia
Comments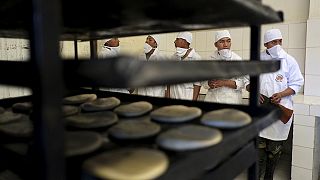 Following a 48-hour strike by Bolivian bakers the army is being drafted in to fill the breech.
Thousands of rolls are being produced at make shift bakeries in military barracks.
Bread is a staple diet for many Bolivians and the country's defence minister has referred to the strike as an emergency.
The dispute is over government cuts to wheat subsidies.
Bolivian bakers went on strike after the government decided to scrap subsidies, arguing the price of flour is already low. But bakers said that inflation and increasing costs are eating into profits.