FYR Macedonia premier rallies his own support in Skopje
Comments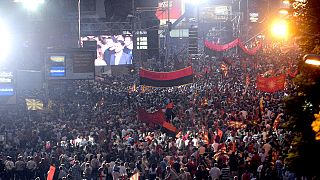 Prime Minister Nicola Gruevski rallied tens of thousands of supporters on Monday in central Skopje – it was his reply to a demonstration by his critics just 24 hours earlier.
Thousands rally for Macedonia PM: Tens of thousands of Macedonians rally in support of PM Nikola Gruevski, a d… http://t.co/cxZfw8WIPU

— Biblioteca

EDSJ

PR (@YaritzaCruzRive) May 18, 2015
The Former Yugoslavian Republic of Macedonia is gripped in a power struggle with opposition calls of the prime minister to quit over damaging wire-tap revelations.
But Gruevski who has been in power since 2006 says he's going no where:
"Who has been demanding my resignation? People who would like to leave Macedonia to them, to reign without the people's will? But to these people tonight – this energy, this power – is the best answer to them."
On Sunday night an anti-Gruevski protest camp was set up outside government offices.
Opposition Social Democrats accuse the government of wiretapping 20,000 people including politicians, and journalists.
Their leader Zoran Zaev says the leaked recording reveal corruption at the highest level
Gruevski rejects the allegations and has accused Zaev of orchestrating a coup on behalf of unnamed foreign spy agencies who, he says, want to overthrow his conservative government.
Adding to the political instability, last weekend eight police officers and 14 ethnic Albanian fighters were killed in clashe.
The crisis rocking Gruevski's nine-year rule is the worst since Western diplomacy dragged FYROM from the brink of all-out civil war during an ethnic Albanian insurgency in 2001.